Easter Bunny Hunt!
12th Apr 2017
P1 Mrs Burnside
P5 Mrs Jackman
P2 Miss Duffy
P4 Mrs Bullock
P1 Mrs Campbell
P6 Mrs Hunt Mrs Fitzmaurice
P6 Mrs Cush
P3 Mr Sweeney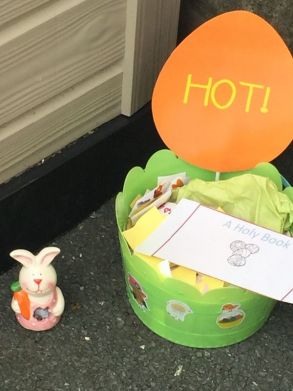 We had lots of fun and chocolate eggs too when we took part in an Easter Bunny Challenge. The Easter Bunny had lost his Easter pictures and puzzles and needed our help to solve the clues to help us find an Easter Egg!
The Easter Trail took place inside and outside our school. We looked high and low for clues! Happy Easter everyone!
Mercy Primary School, 612 Crumlin Road Belfast County Antrim BT14 7GL | Telephone: 028 9039 1670
WEBSITE BY: SCHOOLWEBDESIGN.NET | Login