Fitness Freddy's Fab Fun Friday
The Waves of Toraigh wash through Mercy Primary
St. Patrick's Day Concert
Using Izak9 in P1, P5 and P7
Chocolate tasting in P5
World Book Day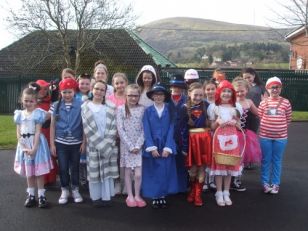 Well done to everyone for the great effort which was put into dressing up for World Book Day. A great time was had by all!!
World Book Day
Buildings
Primary 5 created 3D buildings of Belfast using junk material. Take a look at our photographs and see if you recognise any of the famous places in Belfast.
Buildings of Belfast
P5 Teddy Bear's Picnic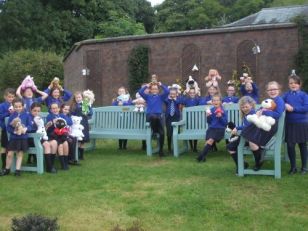 Last Friday there were a lot of extra visitors to the primary five classroom. The girls had chosen to bring in teddy bears for a Teddy Bear's Picnic during Golden Time. The teddies were taken to visit our memorial garden and then for a special playtime in the woods!! After that they got to enjoy a picnic at the tables in the playground. A great time was had by all and everyone is already looking forward to the next Golden Time treat.
P5 Teddy Bear's Picnic
P5 Golden Time Display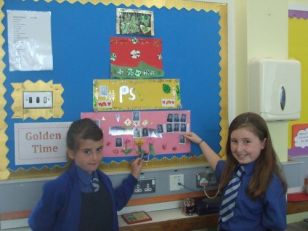 Primary five pupils worked together to create their own Golden Time display. They decided to have their own class "Bake Off" and make a four tier cake with each tier being designed by a different group of five pupils. Hopefully every Friday all the photos will be on the bottom tier so that each girl enjoys a full length Golden Time. Well done for working so well together girls! What a great start to the year!!
P5 Golden Time Display
Mercy Primary School, 612 Crumlin Road Belfast County Antrim BT14 7GL | Telephone: 028 9039 1670
WEBSITE BY: SCHOOLWEBDESIGN.NET | Login