Maths Fun With Izak 9 Cubes
Step inside P5, as the class transforms into Willy Wonka's amazing chocolate factory.
Primary 5 Learning fun!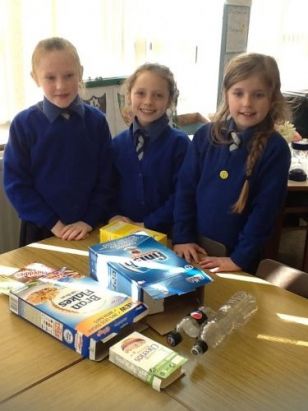 Primary 5 enjoyed exploring their topic of 2D and 3D shape. To make this topic come to life, and have cross-curricular links, we decided to tie this topic in with our WAU topic of famous building around our beloved Belfast. The girls gathered their equipment to decide on what they needed to make their models. The finished product was truly outstanding. Look at our beautiful before and after photographs.
P5 Making Buildings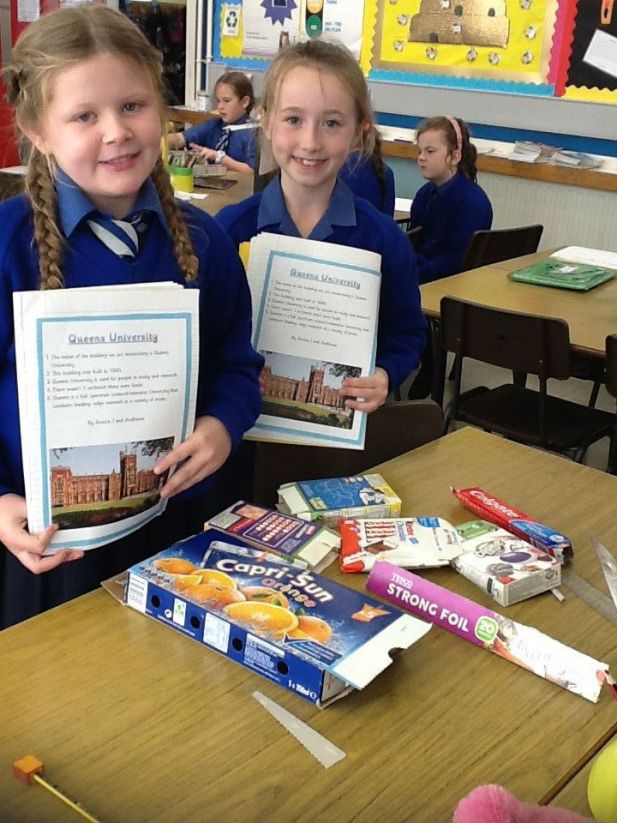 Plan and research!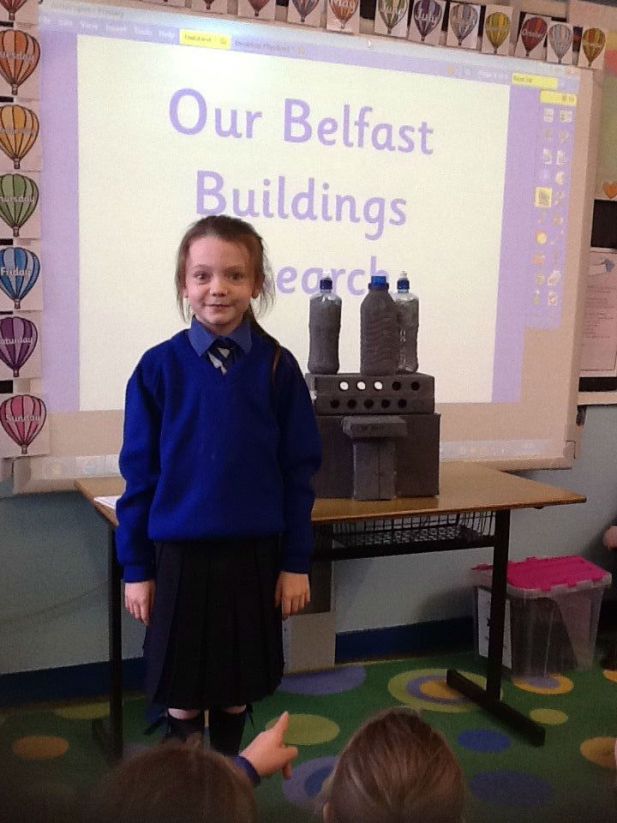 Finished product and presentation!
Learning about Instructions! P5
Primary 5 loved making their beautiful snowmen and penguins as part of our Christmas Fair. Have a look at our step-by-step photographs of all the hard work.
P4 Fashion Learning Logs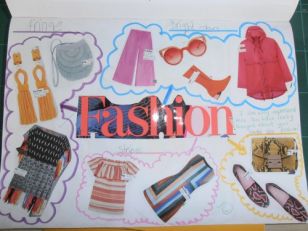 Primary 4 have been completing fashion learning logs. The tasks could be completed anyway the girls decide. We have had photos, drawings, poems, a video presentation and a book made on Book Creator! The girls are loving our topic and are putting in great effort at home! Keep it up girls.
The home project was to make a hat, so far the hats are fantastic! Have a look at the pictures to see the successes so far!
P4J Fashion Work
P4 Hit the Catwalk
For Golden Time on Friday the girls decided to wear their favourite outfits into class and create a Fashion Show, as Fashion is our topic for this term. We looked at models on the catwalk and noticed that they didn't smile, so the girls tried to copy them. I think they look great and did a fantastic job! Some excellent poses and walks!
Primary 4 had a 'Golden Time'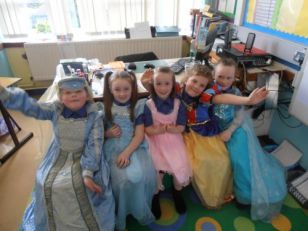 The girls in Primary 4 had a great Golden Time. They made the choice to have a costume party and they just look fabulous! Thank you to the P4 parents for letting the girls bring in their costumes as short notice. I wonder what the girls will choose next week for their well-deserved Golden Time. Well done.
Welcome Back Primary 4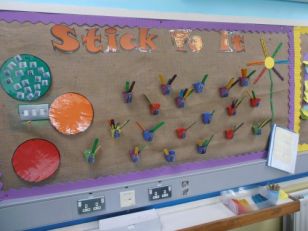 Welcome back girls. Primary 4 have settled beautifully into class and have got straight into their work. Primary 4 is a very important year. The girls are rewarded with sticks for behaviour, which they created themselves, Paths Plus student of the day, Mrs Jackman's student of the day and Friday Golden Time. What a positive year it will be. Our topic this term is Active Planet, we will be researching volcanoes, earthquakes, tornadoes and the Northern Lights.
Keep up the heard work girls, we have a fun year ahead.
Welcome Back P4.
Primary 4 Swing into Action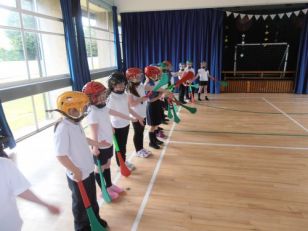 Primary 4 have swung into action this week. The girls had Seamus this week for the first session of camogie. The girls were taught the 'ready position' and the 'lock position'. They had great fun and show real potiential as future Camogs. Keep swinging girls!
Primary 4 Swing into Action
Primary 5 Blog
Holly - 22nd May 2017
I love our topic i can't wait to learn more about it. its sooooo interesting.

holly - 8th Apr 2017
izac 9 is sooooo fun i wish we could do it every morning to get are brains working because normally we are all sleepy but then we do are great work for display which gets are brains working
holly - 28th Mar 2017
i wish our w.a.u topic was still chocolate! but we have learnt soooo much about chocolate because of our amazing teacher. so it is time to learn a lot about the raiders of the lost tumb!
holly - 28th Mar 2017
wow! science is soooooo fun the ladies who taught us were so kind and clear! I LOVE SCIENCE!!!! we learnt so much about different ways of separating grit. it is very fun doing experiments!
orla p5 mrs cushs class - 19th Mar 2017
Cool hats you made! I miss the chocolate topic already. We are going to learn about pyramids. It is alright but chocolate is better! I wish I did more work on fashion- it was fun!
alex - 17th Mar 2017
i have learnt soooo much from last year but I have learnt even more this year and we have only been in school for a couple of months! I hope everyone else did too.
holly - 12th Mar 2017
i love all of our chocolate videos there so good. I have learned so much about chocolate and i am going to miss our topic when we get a new one. p5 is sooooo fun
Erin madden - 10th Mar 2017
This is very good
Katie - 3rd Mar 2017
I really liked this video sry I couldn't comment before :)
Katie - 3rd Mar 2017
I really liked this video sry I couldn't comment before :)
Orla p5 Mrs cushes class - 27th Feb 2017
I love th chocolate topic and love Lucy's and Rachel's Jessica's was just in th middle
Mrs McAllister - 26th Feb 2017
I hope you all enjoy watching our super fun chocolate video! You have all worked so hard throughout this topic.
Jessica - 2nd Feb 2017
I really enjoyed P4. And this year I'm actually organised . Because I wasn't last year. :D
Renee - 1st Oct 2016
I loved p4 so much💋💄
Mercy Primary School, 612 Crumlin Road Belfast County Antrim BT14 7GL | Telephone: 028 9039 1670
WEBSITE BY: SCHOOLWEBDESIGN.NET | Login