Primary 2 Nativity Preparation

Primary 2 have been working very hard at singing, drama and stage directions for our annual Nativity show. We are excited to perform for our school, families and friends.
December in Primary 2
This month we are very busy getting ready for Christmas and preparing during Advent.
We are working very hard to learn our nativity songs and parts and can't wait to show it to the school and to all the families who come to see us!
Below are the songs to sing at home. Enjoy singing and doing the actions.
Izak 9 Maths Challenges
P2 Miss Duffy
Primary 2 girls have settled very well into their new class. We have been learning about our senses and doing lovely writing. Leave a message on our class blog.
P2 Children's health and self-esteem sessions😁
Golden Time Fun
P2 blog
Orla H - 4th Oct 2017
Fantastic work girls, it's always a pleasure to see lovely pictures of what you have been up to.
Miss Duffy - 1st Oct 2017
Welcome to our Primary 2 class page. Please leave a message about your week at school, what you enjoyed learning or what you have improved on.
*Remember use first names only.

Miss Duffy😀
P2 News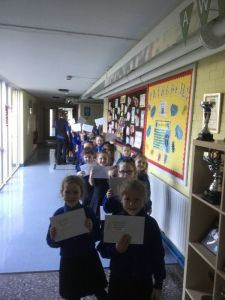 Primary 2 - We posted our letters to Santa🎅🏼
7th Dec 2017
Today we posted our letters to Santa in our special Mercy Primary post box! We are so excited to hear back from him.
We work hard in Primary 2
Mercy Primary School, 612 Crumlin Road Belfast County Antrim BT14 7GL | Telephone: 028 9039 1670
WEBSITE BY: SCHOOLWEBDESIGN.NET | Login