Learning is fun!
We have been very busy in Primary 2. Have a look at our fabulous gymnastic skills and how well we work together to solve problems.
Primary 2 Miss Duffy
Our new topic is Hey, Hey, Look at me! 😁
We will be learning all about our senses. We will explore our sense of ✋touch, 👅taste, 👀sight, 👃smell and👂hearing.
Izak 9 Maths Challenges
Latest
P2 blog
Miss Duffy - 15th Oct 2018
Well done! Everyone worked so well doing symmetry.
Fiadh - 30th Sep 2018
Fiadh said she really liked the bun sale this week! And she enjoyed working with the mirrors
Miss Duffy - 27th Sep 2018
Welcome to our Primary 2 class page. Please leave a message about your week at school, what you enjoyed learning or what you have improved on.
*Remember use first names only.

Miss Duffy
P2 News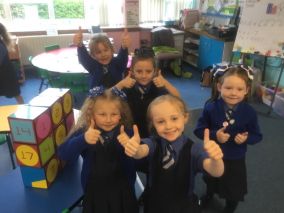 Celebrating Maths Week Ireland 👍😀
16th Oct 2018
We have been learning how to work as part of a team to problem solve, make decisions whilst developing our mathematical language and also have fun using Izak 9! 😀
Mercy Primary School, 612 Crumlin Road Belfast County Antrim BT14 7GL | Telephone: 028 9039 1670

WEBSITE BY: SCHOOLWEBDESIGN.NET | Login