Building for 7 and sorting 2D shape.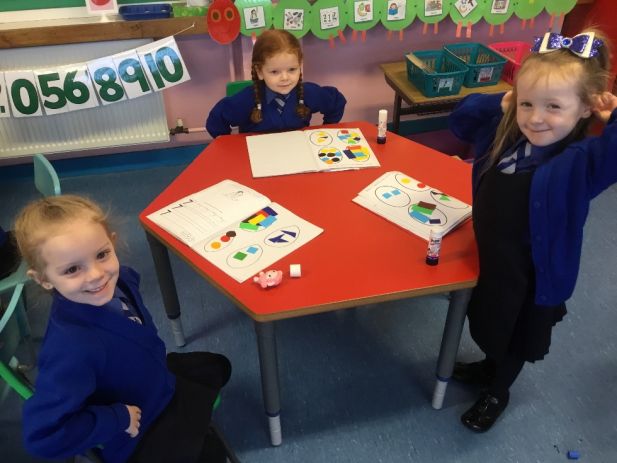 A wonderful white winter, full of little stars ✨ Well done P1. Looking forward to January.
P1 have had an action packed November. From meeting the fire brigade to following the journey of a letter. We carried out an experiment to see what materials could save our egg 'Humpty Dumpty' from cracking.
Happy Halloween. Thank you so much for all the wonderful, creative and some quite scary costumes. The girls looked fantastic. We hope you have a lovely and safe Halloween break. 🕷👻🎃
October time in P1. We are busy bees in P1, we are solving problems, learning new sounds and identifing who helps us in our community. We are now looking forward to dressing up at Halloween.
We welcome the Primary 1's to their new school. September is such an exciting month.
After School Activities.

This term after school we are offering Drama, African drumming, Art, Film club, Gymnastics, Netball, Multi-Sports and Choir. Please contact the school if your child is interested in joining a club.
P1 & P2 Multisports afterschool activity.
A little taster of Multi Sports - We had a go at dodge ball this morning. This after school activity takes place on Mondays from 2-3pm. Multi sports is a great way to develop the fundamental movement of agility, balance and coordination. Please contact the school if your daughter would like a space in the club.
Useful Links
Fun Links
maths
Literacy
My School
Mercy Primary School, 612 Crumlin Road Belfast County Antrim BT14 7GL | Telephone: 028 9039 1670

WEBSITE BY: SCHOOLWEBDESIGN.NET | Login